If you have read my "About" page, you already know I love anime and manga, Sailor Moon ever at the top of my list on favorites, and today is International Sailor Moon Day! 🙂 Whether you watch the original anime, or just finished Sailor Moon Crystal, or are just plain devoted to the manga, you will be interested in the goodies I found around the web. Also, did you hear? Soon us Moonies will have our first Smartphone Game App! 😀
First, have fun watching this little commercial inspired by our beloved magical girl transformations:

Paper Cuts Sailor Moon Art
This was an art piece created for Q-Pop Shop's Sailor Moon show back in April 2014. The artist Cameron Garland, posted in progress photos on his Instagram and Tumblr, giving reference to the size and detailed quality. Really cute, amazing and oh so TINY! O_O
Lightning and Lace Sailor Moon Props
I stumbled on this site earlier this year when looking for a new cover for my own 3DS. The glasses they designed recently are also very cute. 🙂
Samantha Vega and Sailor Moon Collaboration Line

Thanks to Sailor Moon's 20th anniversary there are plenty of accessorized goodies to go around. From purses to wallets and clutches, I certainly love this line of products, though it is possibly sold out on the main Japanese site, you can find the line scattered for purchase across the web, even at eBay.
Anna Sui and Sailor Moon Collaboration Line
This is another collaboration line for Sailor Moon that also released earlier this year. It is sold out as far as I can tell on the main Japanese site, but you can find it from re-sellers online but for a hefty price. I want the necklace with the time key and crystal but alas, it is sold out and I can't find it anywhere online. 😦
Star Light Deco Dream Sailor Moon Designs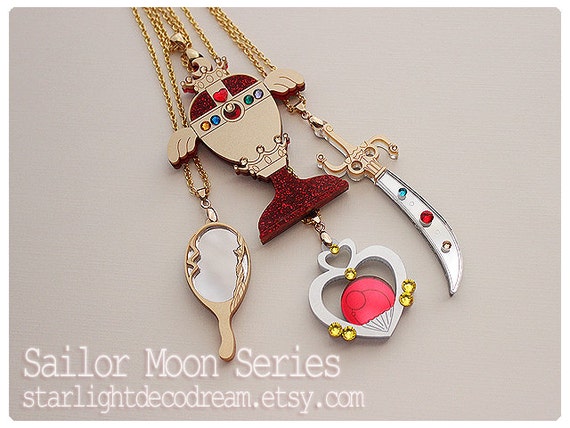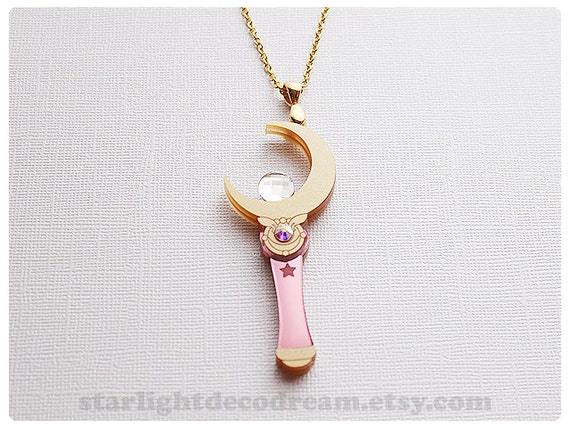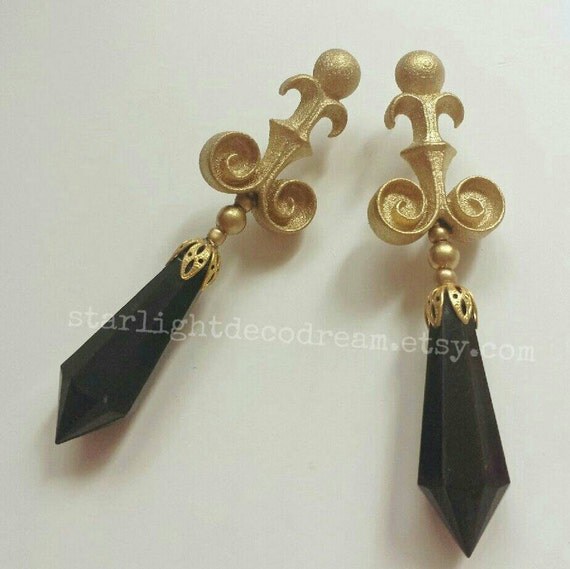 The designer, Candy Melange, originally was just making it for herself inspired by 80s and 90s anime from her childhood. She would call the designs "Mahou Kei" or Magic Style in Japanese. In her designs she utilizes layered acrylic and swarovski crystals to make the cute designs.
"To be a magical girl, it takes courage.
It takes the power to overcome your fears.
It takes humility, dedication, and your heart …"
– from "What it Takes to be a Magical Girl" by Candy Melange 。+.。♪ ⌒☆
Ginzuishou (Silver Crystal) from Sailor Moon?
I found some cool things from searching for a Ginzuishou to buy online. Sadly, the real thing can't be bought, ha! 😉
The full bloomed lotus crystal is sold via Amazon, as a decoration and comes with a gift box. From other reviewers, I found 2 of them that bought this for the very same reason I am blogging about it now. It's GREAT as a Ginzuishou prop :D, and at 3″ its only $9 with Prime. Not bad right?
As for the baby on the upper left? Well, this Ginzuishou took tons of research, no BS!! I found that the specific Naoko Sensei designed is extremely hard to find, but I found a custom gem designer that got close. 😛 The Designer's name is Doug Menadue, and this specific facet is as an "Acorn" briolette type facet. Though, I am sure you would have to pay a hefty price for something like this, it's cool to know it's possible to own with the  right funds.
Thanks for reading and Happy International Sailor Moon Day! What are you doing to celebrate?